Family Office

---
What Is A Family Office?
Traditionally, the term 'family office' was used to define a private company employed by families with high net-worth, to manage investments and trusts on their behalf. Now, it refers to tailored financial services for wealthy families.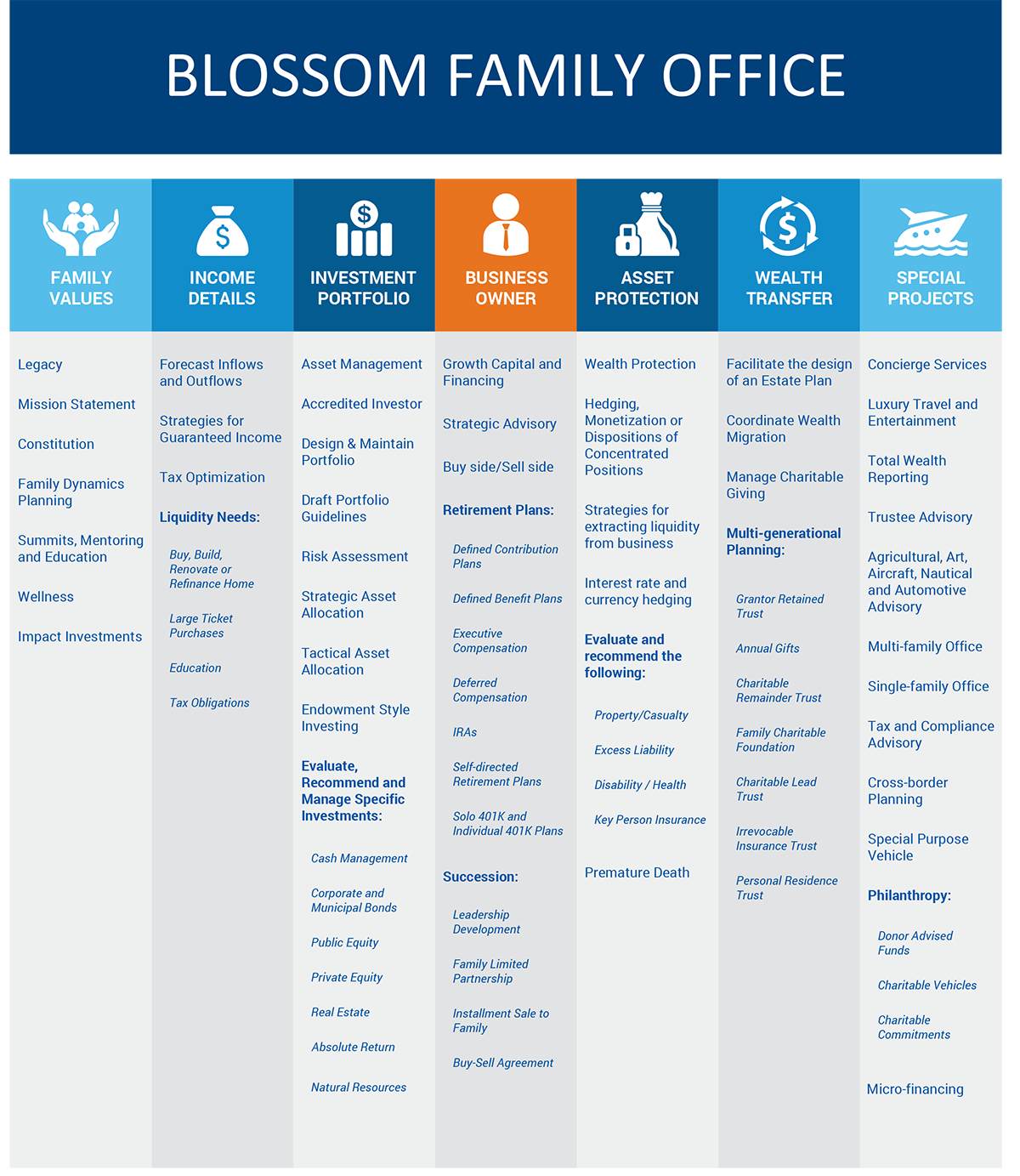 Why Consider Family Office Services?
As families grow and each new generation passes, inter-generational transfer of wealth becomes increasingly complex. If family financial planning is not done right, it can eventually lead to disagreements, disputes and feuds. In our view, the core reason for most families opting to set up a family office is avoiding these circumstances.
However, there are many other reasons for using family office services, and these include:
Governance and Management Structures - Dealing with and managing wealth can be very complex, since the wealth's governance needs to be transparent to avoid conflicts in the future, yet your family's confidentiality needs to be maintained. Family office advisors can offer tailor-made structures for wealth management and governance, while confidentiality is ensured since these services are provided by a single family-owned entity.

Alignment of Interest - When different family members turn to different advisors, this will rarely lead to an alignment of interest between them. In the interest of preventing future conflicts, a family office can create structures where the interests of family members and financial advisors are better aligned, since a single entity will work with them all.

Risk-Return Relationship - We believe when asset management undertakings are handled in a centralized and professional manner by a family office wealth management firm, investments are potentially more likely to yield higher returns with lower risks.

Separation of Business and Wealth - A family office advisor can help you separate financial aspects of the family business and any surplus holdings, savings or wealth that the family owns. We believe with such a separation, or at the very least a distinction between the two, it becomes easier to monitor business losses do not affect the family's wealth, and create a proper structure for business expenses and earnings.

Centralization of Risk - Operational risk consolidation, performance management and reporting are some of the ways in which a family office can help your family financial planning. Through the centralization of risk, advisors and principals can together ensure that they make better decisions regarding investment and wealth goals for your family.

Centralization of Other Services - A family office also offers centralized assistance with a wide range of other professional services that take your family's financial (as well personal) goals and mission into account. Some of these commonly include philanthropy, tax and estate planning, family governance, communications and education.
Types of Family Offices
The three basic types of family offices are:
SFO or Single Family Office – As the name suggests, this is a private company that deals with the management of finances for a single family. The functions of a single family office include managing part or all of the family's investments, trusts, estates and fiduciary. Quite often, the SFO could even offer concierge services to the family.

MFO or Multi-Family Office – This is a company that offers investment, trust, estate and fiduciary management services to multiple families. MFOs can be private, i.e. only offering services to a few families and not available to others, but most are commercial and available for many families to hire. The families may or may not be connected, and a successful SFO may transition into a multi-family office over time.

VFO or Virtual Family Office – When a family wants to enjoy the benefits of family offices without setting up a company for it, this is a good starting point. A virtual family office allows families to outsource financial services and other functions to professionals who can handle them. Through the use of external consultants and service providers, a VFO offers families the same benefits and comfort of a traditional family office.
At Blossom Wealth Management, our goal is to do more than just help families accumulate assets and transfer those assets to the next generation. We collaborate with the family's team of professional advisors. Most importantly, we bring in resources when appropriate. We make sophisticated and confidential connections for clients interested in luxury travel, lifestyle ventures (art, aircraft and watercraft), and agricultural holdings (wineries, farms and ranches). We understand that some investments go beyond monetary return. We believe they provide an oasis for their owners.
---
Contact us for a free, no obligation, 30-minute financial consultation.