Planning Process

---
With financial independence, family legacy and social capital solutions in place, wealth optimization becomes the focus of the planning process. We use a unique and disciplined values-based approach to help you make wise choices and to help ensure that your plan is focusing on what you value.
We break the planning process into five quadrants or phases, each one representing one planning cycle: Personal Interview, Comprehensive Financial Analysis, Create Strategic Vision, Implement Strategic Plan, and Ongoing Monitoring and Education.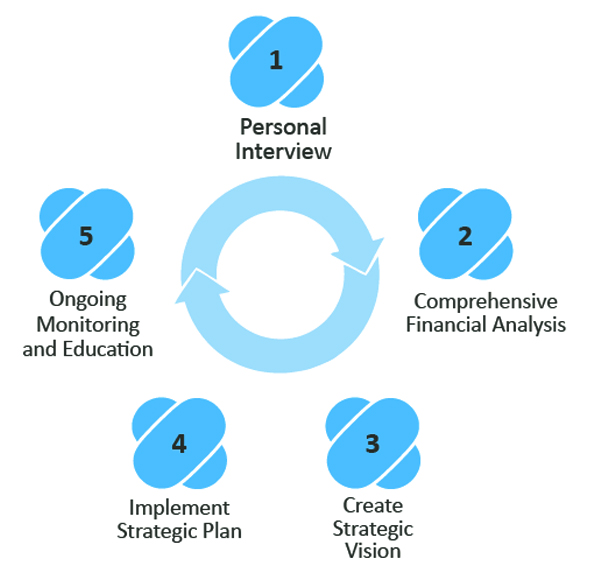 Step 1: Personal Interview
Our investment process begins with a personal interview. We learn about you – your present financial situation, goals, timeframes and risk tolerance. We look beyond your net worth to explore what matters most in your life – family, business, hobbies, travel and philanthropy.
Step 2: Comprehensive Financial Analysis
Based upon the information gathered in Step 1, we construct a comprehensive financial plan. The financial plan serves as a roadmap for achieving your goals. Relevant components include:
Investment planning

Retirement planning

Tax planning

Estate planning

Cash flow and liability management

Risk management and insurance planning

Education planning for children/other family
Step 3: Create Strategic Vision
This is when we educate you on the investment landscape and create your investment policy statement.
Considering the geometric growth in the diversity of investments, we have observed that our clients feel empowered when they understand the different types of investments, their applications and associated fees.
Once informed, you can infuse personal values into your investment policy statement. We want you to be comfortable that your portfolio is designed for long-term success.
Step 4: Implement Your Strategic Plan
At this stage, we implement your strategic plan. This may involve one or more of the following:
Demonstrating how you can efficiently grow your assets

Utilizing accumulated resources to fund specific needs such as college or retirement

Creating diversification strategies to protect assets

Working with outside professionals to sell your business

Coordinating the efficient transfer of your assets to your loved ones
Step 5: Ongoing Monitoring and Education
We carefully monitor your strategic plan to ensure continuous alignment with your goals. In addition, we provide consolidated performance reporting on a periodic basis. We encourage you to communicate any significant change in your situation so that we may make the appropriate adjustments.
*Each of the above items are goals-based only. There can be no guarantee of positive outcomes or investment returns.



Let's Get Started
---
Contact us for a free, no obligation, 30-minute financial consultation.